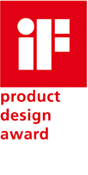 Since their introduction in the year 1953, the iF design awards have been a reliable indicator of outstanding quality in design.

The iF product design award covers all areas of product design. It serves as a platform for design-relevant innovations, thus recognizing today's globally networked world and its related dynamics.



Organized by Design Zentrum Nordrhein Westfalen from Germany since 1955, the international "red dot design award" is the largest and most renowned design competition in the world with more than 12,000 submissions from over 60 countries.

It is divided into the "red dot award: product design", the "red dot award: communication design" and the "red dot award: design concept." The award-winning products are put before an international public in the red dot design museum.